Spray Tans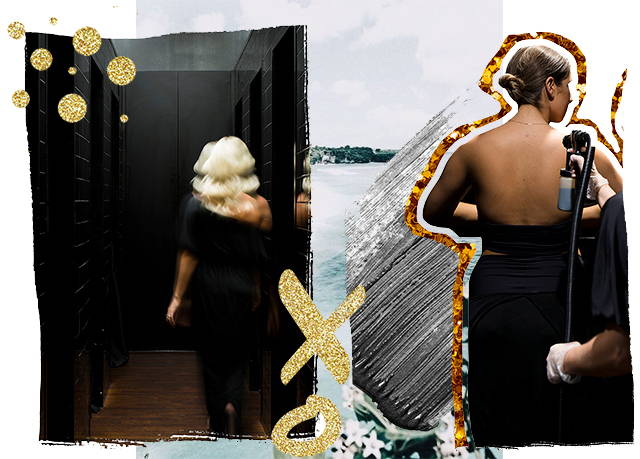 After Your Tan

Lush Tan Beauty is Brisbane's premium spray tanning boutique specialising in superior full body spray tans. Over 10 years we have continued our goal to provide a natural and healthy alternative to solariums and sun baking.
Please keep in my mind we use 10 years of experience to recommend a tan that we think is best but as all skins are different and people's expectations can differ we cannot 100% guarantee the perfect colour first time around. If you are getting a tan for a special occasion we strongly recommend booking in for a trial tan to make sure you have the opportunity to try several options if need be.
Spray tanning is a form of sunless tanning where a fine mist is sprayed onto your body. This bronzed mist sits on top of your skin and has active ingredient's in it that interacts with your own skin's chemistry to tan it.
You can choose a tan that you can shower off the bronzer off at 2hrs, 4hrs or anytime after 8hrs.
All tans will take 8-24hrs to fully develop, it is normal to see most of your colour at 12hrs but you may deepen slightly up until 24hrs ('rapid' and '2hr' does not mean your full colour will be developed after such a short period of time. ALL tans take 12-24 hours to develop).
Your at home preparation is just as important as our application process. The better you prepare your skin the better the result! Some important steps to take before your appointment:
EXFOLIATE EXFOLIATE EXFOLIATE!
Thoroughly exfoliate before the night before and the morning of your spray tan. This is THE most important thing you must do. A thorough exfoliation will prolong the life of your tan and give you an even result.
Eyebrow tinting is to be done at least 24hrs PRIOR to your appointment.
Any hair removal is to be done 24 hours prior. Please do not shave JUST before your tan. Shaving can encourage your skin to produce natural oils which can effect the tan. Make sure you thoroughly exfoliate after your hair removal.
If washing your hair or shaving before your appointment make sure you exfoliate after these activities to ensure any conditioner and/or moisturiser is completely removed.
Use a body wash that is not highly perfumed and make sure all soap is removed from your skin.
After your last shower before your appointment do not apply any moisturiser or deodorant. Moisturiser can act as a barrier and deodorant can react with the spray tan and turn it green.
We supply hair nets, disposable under wear, baby wipes, sticky feet, face masks & hair ties all free of charge. Please ask your friendly technician if you require any of these products.
What you wear during your appointment is up to you. You can wear your own swimwear, underwear or we use our disposable g-strings. Just remember that what ever you have on, is what tan line you will have after. Men please wear togs, underwear or boxers. Breastfeeding mums like to wear a small strapless bra or bring their own nipple covers.
Wear or bring dark, loose-fitting clothing to change into at the end of your tan. Tanning solutions wash out of most clothes very easily but may stain some materials.
If it is raining, make sure you are covered up - think winter pyjamas. Avoid thongs in the rain as these can flick water from the ground up onto the back of your legs.
Use a gentle body wash, and avoid anything which may exfoliate your skin such as long, hot baths, exposure to chlorinated water, or exfoliating gloves or sponges.
Wait a minimum of 8hours before you moisturise and then moisturise morning and night for the life of your tan.
A spray tan will last 5-10 days depending on how well you exfoliated, your natural skin cycle and your at home maintenance.
A good skin care regime is essential when taking care of your spray tan. Along side continual moisturising we strongly recommend the 'custard' tan extender. The tan extender keeps your tan looking vibrant and can extend the life of your tan up to 14 days.
When it comes time to removing your tan the 'Tan-Off Mitt' will be your best friend. It does such a great job at exfoliating that we also recommend you use this glove PRIOR to you spray tan.
Do not exercise for 24hrs after your tan.
Signature Spray Tan $39

Add Extra on Legs or Arms $5ea

Double or Heavy Coat $49
5 Pack - save 10%  $175

10 Pack - save 15%  $331

20 Pack - save 20%  $624

50 Pack - save 25%  $1462
---